The containers are manufactured from plastic – polypropylene HP500N. It consists of three components: body, cover which is tightly locked on the body and small cover which is used to temporary closing the main hole of a container and also after filling the container, it is used to irredeemable closing this hole.
---
After filling, the container is devolved to burn down in accordance with national rules relating to the disposal of dangerous waste. Residues from the combustion of plastic from which the containers are made, are not harmful to the environment.
The containers are mackintosh and resistant to injections. They are in volumes from 1 to 10 liters, have special notches in the lid to safely separate the needle from the syringe.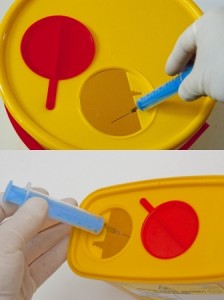 ---
On the container is places warning label with sign and inscription " infectious material" and at the label is also space for: the origin of the waste, their type (waste code), date of closure of the container and the person's closing data.
The containers from 3,5 l are equipped with a convenient handle to facilitate the transport.